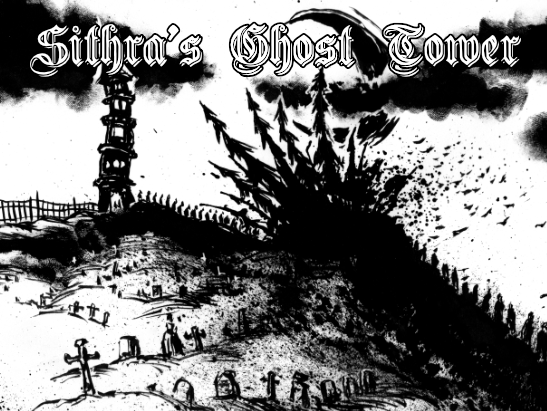 Sithra's Ghost Tower
Near Sithra's Ghosttower lie the Frost Marshes and adjacent to it the hamlet of Torgan's Watch. Four weeks ago, the deceased also appeared around the Ghost Tower during the day. Two weeks ago, a sinister figure was seen in the Frost Marshes. Two days ago Wyland left the hamlet for the vicinity of the Frost Marshes and did not return. Sithra became a mistress of necromancy after her only remaining family member passed away. No one knows what dark experiments she performed in her tower.
Sithra's Ghost Tower is an adventure on two A4 pages about Sithra and the reason she became a master necromancer, as well as why the walking dead are increasingly seen around the tower and what really happens inside.
This adventure is available for Cairn by Yochai Gal and for Mausritter by Isaac Williams. In the PDF are layers for the folding lines for those who want it in folded form rather than just an A4 printout.
Credits & Licenses
Cover by Kim "DenUngeHerrHolm" Holm under CC BY 4.0
Map by Dyson Logo
Background by Adrien Olichon on Unsplash
Yochai Gal, Author of Cairn
The text of the Cairn Version of Sithra's Ghost Tower is licensed under CC-BY-SA 4.0.
Sithras Geisterturm is an independent production by René Kremer and is not affiliated with Losing Games. It is published under the Mausritter Third Party Licence. Mausritter is copyright Losing Games.
Purchase
In order to download this game you must purchase it at or above the minimum price of $3 USD. You will get access to the following files:
Sithra's Ghost Tower (Cairn) PF.pdf
5 MB
Sithra's Ghost Tower (Cairn) Web PF.pdf
1 MB
Sithra's Ghost Tower (Cairn) Web.pdf
2 MB
Sithra's Ghost Tower (Cairn).pdf
7 MB
Sithra's Ghost Tower (Mausritter) PF.pdf
5 MB
Sithra's Ghost Tower (Mausritter) Web PF.pdf
1 MB
Sithra's Ghost Tower (Mausritter) Web.pdf
2 MB
Sithra's Ghost Tower (Mausritter).pdf
7 MB